Sharp manufactures consumer electronic products and electronic components. The products segment makes communication equipment like audio-visual mediums and has environmental and health devices.
The electronic components on the other hand feature solar cells, liquid crystal displays, and many other electronic machines. Founded in Tokuji Hayakawa in 1912, Sharp Corporations is headquartered in Osaka, Japan.
Are Sharp Copiers, good?
Sharp Corporation makes a wide range of business copiers and multifunction machines from high-output network units to small-footprint devices. All of these are extremely high-quality, onboarding-enhanced security document storage, and flexible smart touch screen paper handling. Sharp models like MX 4070V, MX 3570V, and MX 3070V are its most advanced series highlighting coloured document systems.
All of these offer easy navigation and vivid colour output. This advanced colour series sets its focus on the latest imaging and networking technologies. Carrying features like a motion sensor, the machine wakes up as soon as you approach. They also have retractable built-in keyboards with the goal of simplifying repetitive tasks such as scanning and emailing. This line of series carries with them enhanced security with great functionality and easy navigation.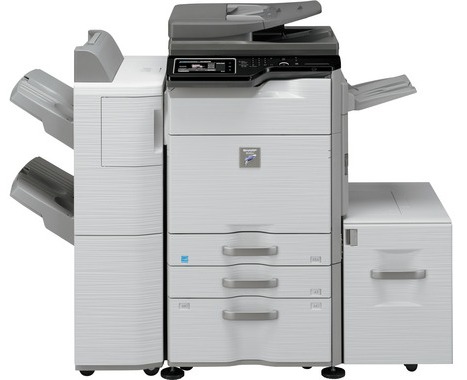 Which of the Sharp models is the best?
Sharp MX-M202D is a multifunction copier that is best suited for large offices. It is easy to use and compact with a wide range of high-end features. Its printing speed tops at 25 pages per minute and does not only reduce black and white copies, but it also stores documents and scans them in coloured versions. Its paper capacity is 600 sheets; however, this can be doubled up to 1100, especially for offices that need huge printing jobs.
The Sharp MX-M202D also gives you the ability to use A3 paper size, which is best for 600 x 600 resolution. This machine also has electronic sorting capacity, which means that your documents are filed and stored for easy access in case you need them for future use. You can also use it for faxing information making this the perfect machine for just any office size.
This well-prepared all-around machine produces prints at high-speed, which means you can rely on them anytime, all the time.
Sharp MX-M502N, is another multifunction machine, which can perform filing, faxing, scanning, copying, and printing at 50 pages per minute with 1100 paper capacity. What's great about this model is that the paper capacity can reach up to 5600 sheets if you need them to be at this count. Its print resolution is at dpi 600 x 600 with a scanning feature in full colour. Its control panel is a touch screen and is easy to use. These can also be accessed through your computer. Its electronic sorting system will make it easy to locate the files that have run through them. On top of its practical features, it also has advanced security features that can secure your documents through its access restriction and encryption
Sharp MXB200 is a compact machine that's the most ideal for small businesses. Its copy speed is 20 pages each minute and it comes with several great features. This black and white machine can print at 600 dpi resolution and utilizes clever modes to ensure that the best exposure and quality of prints are produced each time. If your office is big on preventing or minimizing unnecessary waste, this is the best machine for you.
The Sharp MXB200 also has a feature called scan once, print many. This means you can have a document in memory stored in its system for future printing- another wonderful time-saving capacity. Even though this machine is black and white, you can still scan copies in high-resolution and save them in full colour for future use even for multiple printing devices. This Sharp model can hold as many as 300 sheets, if needed, and can be doubled to 600 paper capacity.
All these features, definitely, can help keep tasks and office printing jobs simple and quick; made easier with its automatic off feature when it is in an inactive period. With this feature, you will never have to worry about turning it off each time.
If you plan to get copiers for your office in Cleveland, you can opt to buy copiers or lease copiers in Cleveland. We can give you the option to get the copier that you want.  You can contact our local copier leasing services department in your location.
If your Location is around Cleveland, you may call us at (216) 303-6258, our personnel for copier leasing in Cleveland will assist you.   If you are also looking for copier repair services in Cleveland, you may contact our copier repair personnel at the same number.
If you need more information about Sharp multifunction machines, you can call us now.